More and more enterprises are paying attention to the improvement of office efficiency, and the enterprise wireless projection market has emerged. It is different from the wireless projection screen of the home consumer market. The availability and stability of the wireless projection screen function in the enterprise wireless projection market. The convenience requirements are much higher than the household consumer market. There are not many vendors that can provide stable, reliable, and usable enterprise-level wireless projection products.
BJ60 wireless projection screen box is the latest enterprise-class wireless projection equipment launched by Suzhou BiJie Networks Limited in response to market demand. The BJ60 is equipped with an eight-core 64-bit ARM® CortexTM-A53 processor. It uses the Android7.1 operating system and supports 4K Ultra HD decoding. It supports iOS and Android smartphone/Pad and Windows and MacOS system wireless projection. BJ60 is a wireless projection screen product that will be put into the enterprise market. What is the performance of this wireless projection box?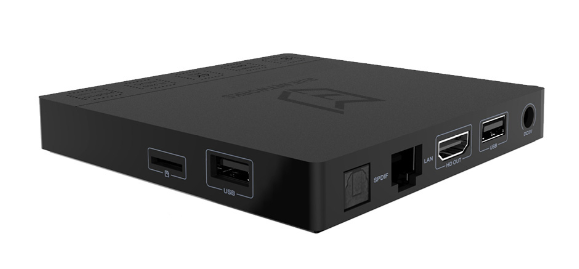 The appearance of the BJ60 is small and exquisite. It is about the same size as an ordinary home network TV set-top box. The size of the BJ60 is only 110*110*17mm. It does not take up space in the conference room. Users can carry it with them and project images anytime and anywhere. Overall, the design is tough and suitable for business use.
BJ60 uses built-in antenna, supports 802.11AC protocol, wireless projection miraccast uses 5G frequency band by default.
The back interface of the BJ60 is quite rich, providing one HDMI2.0 video output interface, one Gigabit wired network port, one SPDIF optical audio output port, and one 5V/2A power port.
In addition to the rear interface, the BJ60 also provides a USB interface and a TF card slot expansion interface. In general, the interface is very rich.
In terms of feel, this wireless projection box has a matte finish on the front, which is delicate and does not occupy fingerprints.
The BJ60 wireless projection box is equipped with Android7.1 system. After the Betcom network is deeply customized, the opened UI interface is the wireless projection screen interface. The overall interface design is relatively business-like, and the system home page displays information such as "device name", "screening password"(PIN), and "IP address".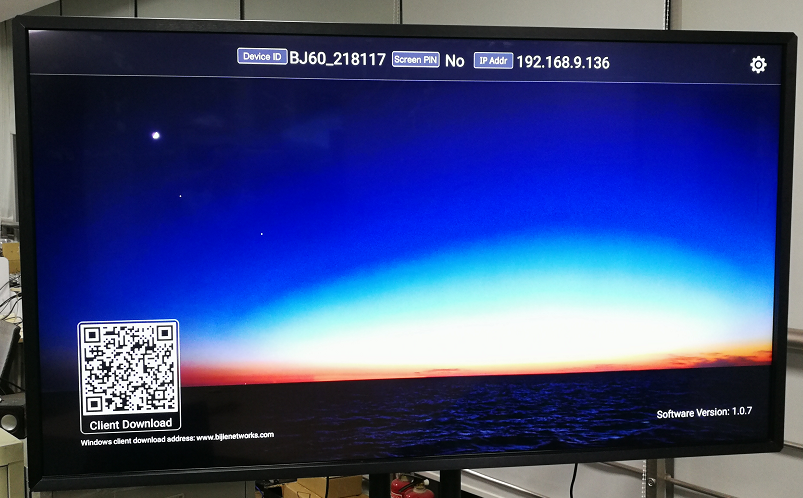 In the setup menu, you can change the "Device Name", "Desktop Wallpaper", "Screening PIN" and "Ethernet Network Configuration".
The "Desktop Wallpaper" setting can be used to change the wallpaper. If the built-in resources are not met, you can also upload them via file transfer or U disk.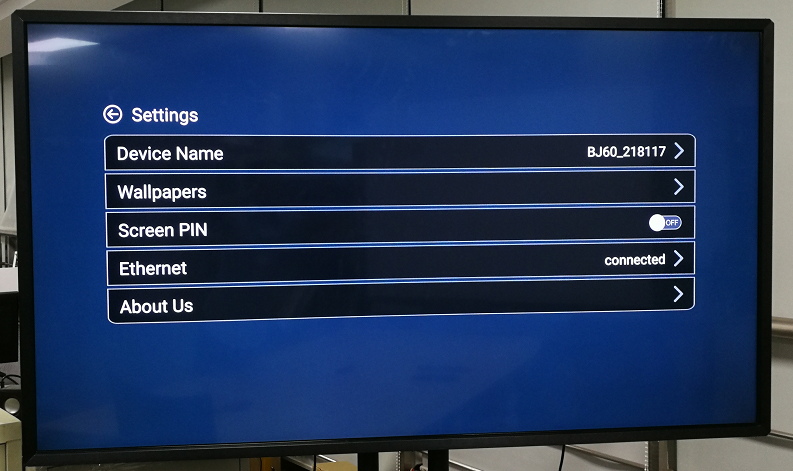 In summary, the BJ60 has a simple appearance and a strong business atmosphere, which is especially suitable for business use.
Appearance evaluation ends here, our next article will be a detailed evaluation of the function and performance of BJ60